This item was the very first item ever posted when the Etsy shop was first opened on October 18, 2013.
Also, as linked at this transaction here, it has been SOLD!

Not only was this the first item ever listed at the shop at Etsy.com, it was also the very first item sold at the shop at Etsy.com, too!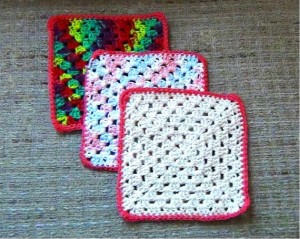 This crocheted cotton dishcloth trio is made with machine washable durable cotton in a granny square pattern. In the trio you get one vintage white, one pretty pastel, and one vibrant jellybean shades, all edged in complimentary mauve. each measures approximately 8″ across.
Not just for washing dishes, these handy sturdy crocheted cotton dishcloths are also good for general house and/or personal use. Whether it be wiping counters or in the bath, Mainely Crafted dishcloths are the perfect choice.
Feel free to request a color palette today !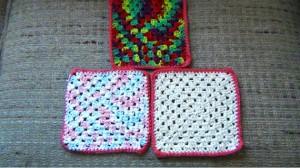 Made in USA – Made in Maine
Handcrafted in smoke free environment
Listing at on Etsy.com: Crochet Cotton Dishcloths Granny Square