New item now posted and available at our shop.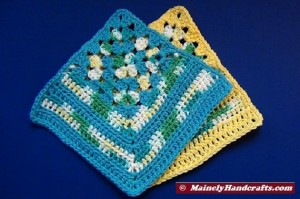 Fun, colorful 2-color dishcloths, each begins with a granny square corner and then is worked corner-to-corner for a decorative, striped effect. This crochet duo is made with machine washable durable Sugar N Cream brand cotton. In the set of 2, you get one bright blue with variegated, and one summery yellow with variegated. They compliment each other nicely.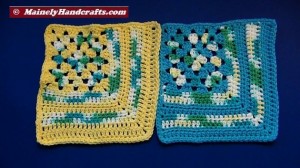 Uses include:
* In the kitchen as a dish cloth or dish rag;
* In the bath as a wash cloth or face cloth;
* As a cleaning tool replacement for the sponge;
* Folded or doubled up, it can be used as a hot pad or pot holder.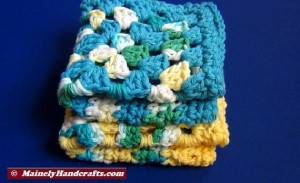 Made of pure cotton, they are eco-friendly, re-useable and can last for many years!
Buy these from Mainely Handcrafts ™ and throw away that grungy stinky sponge.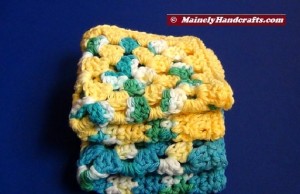 Feel free to request a color palette today!
Each cloth measures approximately 8 inches across and is easy care.
Machine wash with like colors and tumble dry on low.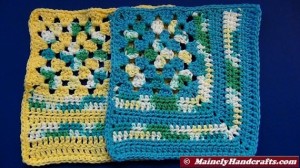 Made in USA – Made in Maine
Handcrafted in smoke free environment
Check out our other Washcloths & Dishcloths at Mainely Handcrafts ™.